Marco Reus has been showered with compliments this season but perhaps the best one came courtesy of Hans-Joachim Watzke, Borussia Dortmund's chief executive, last weekend. After the 29-year-old's sixth goal of the season maintained a four-point lead at the top of the Bundesliga, Watzke suggested this was the most polished and pure version of Reus yet. BoReusia Dortmund, declared Sport Bild. Dortmund have arguably never felt better going into der Klassiker, with Bayern Munich the visitors at Westfalenstadion on Saturday.
To Dortmund, Reus is not only a captain but a conductor. To Reus, running out for Dortmund, the club he supported as a kid, is an enormous source of pride. As a boy in the academy, he and his former teammate Kevin Grosskreutz formed part of the 25-000 strong Yellow Wall in the south stand. But as much as Reus is revered, he is pretty much trophy-less. This season, though, with Reus reinvigorated in the No 10 role since being reunited with Lucien Favre, there is hope that Dortmund can break Bayern's six-year Bundesliga stranglehold, having last won the league in 2012. "I feel that something is developing here again," Reus said. "That is showing now."
The average age of the Dortmund starting XI that lost – for the first time in 16 matches this season – at Atlético Madrid on Tuesday, was 25.45 years old. At Wolfsburg, where Reus scored a few days before, it was 23.72. Reus does not turn 30 until May but in this Dortmund team he is considered an old head, with the defender Lukasz Piszczek the dad of the group at 33. "Of course I take responsibility – now even more than before," Reus said.
This summer Dortmund made a point of recruiting added nous in Axel Witsel and Thomas Delaney, but it is Reus who orchestrates things to allow Jadon Sancho (18), Jacob Bruun Larsen (20) and Christian Pulisic (20) to flourish. "It's good to have him on the pitch talking to me and giving me advice, because when he tells me things I listen," Sancho said. "I look up to him like an idol."
Reus's only league title came in 2008, when Rot Weiss Ahlen won the Regionalliga, Germany's third division. Since returning to Dortmund, via Borussia Mönchengladbach where he excelled under Favre, he has picked up a Champions League runners-up medal, in 2013, the year they went on to win the domestic Supercup. But owing to injuries, Reus has little to show for being one of the best players of his generation. Years of his career have been punctuated by spells on the sidelines, namely 2014 when an ankle injury ruled him out of the World Cup in Brazil. Any fond memories of winning the German Cup last year were tainted by a cruciate ligament injury that saw him substituted at half-time and ruled him out for the following 259 days. Only last month he missed two Nations League matches because of a knee injury.
Time spent on the treatment table, he says, gave him a better sense of perspective and made him see the bigger picture. Reus has the Swahili phrase hakuna matata – synonymous with the Lion King – slapped on the heels of his red boots, and recently insisted he would trade his millions for his health after wretched luck with injuries. "It was meant completely sincerely," he said. "When you pick up a serious injury – and I mean long-term injuries where you are out for six, seven, eight months or more, not just a three- or four-week hamstring tears, then that's simply the case."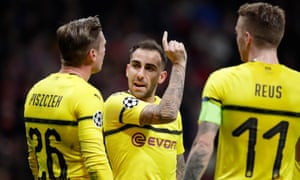 For Dortmund, recent history with Bayern makes for grim reading before the 119th meeting. Bayern humiliated Peter Stöger's side 6-0 in March, when Dortmund's former striker Robert Lewandowski struck a hat-trick and Dortmund have tasted victory in only two of the past 15 duels. Dortmund seem a different beast now, with the green shoots of Favre's young stock clear to see. Sancho has especially shone, while Achraf Hakimi and Paco Alcácer have been loan stars from La Liga, with the latter, from Barcelona, boasting a strike-rate of a goal every 27 minutes. Favre, however, is staying grounded. "We have made progress in the past three or four months but we still have a lot to learn tactically, especially the young players," the Swiss said.
The noises coming out of Bayern paint a bleak picture, though Uli Hoeness's comments feel rehearsed. "We do not go to Dortmund as favourites but as underdogs – for the first time in a long time," the Bayern president said. Hoeness's criticism of the German media was at least a reminder that we should be grateful for Bayern's autumnal wobble. "Four weeks ago you all complained that the Bundesliga is getting boring again and now it is no longer boring but exciting and now that doesn't suit you. We're doing you a few favours."