This was not a good weekend for those Serie A fans who prefer to leave a game early and beat the traffic. Cagliari salvaged a point at home to Roma with a goal in the 95th minute. Fiorentina left it even later away to Sassuolo, Kevin Mirallas dragging them level in the 96th. That was the same minute in which Lazio took a 2-1 lead at home to Sampdoria. Somehow, they finished all square as well.
The timing of those goals offers only a glimpse of the drama. Cagliari had trailed 2-0 to Roma as late as the 84th minute. Even after Artur Ionita halved the deficit, the Sardinians quickly found themselves reduced to nine men – Luca Ceppitelli and Darijo Srna sent off for protesting a free-kick decision too vehemently. Still, Marco Sau was able to punish a moment of inattentiveness from Roma's defence at the end.
Over at the Mapei Stadium, Sassuolo celebrated to the tune of Tubthumping by Chumbawamba after establishing a 2-0 second-half lead. But it was Fiorentina, knocked down, who got up again. In fact, they did it twice.
Giovanni Simeone pulled the first goal back, only for Stefano Sensi to restore the hosts' cushion in the 80th minute. Sassuolo's Filip Djuricic was then sent off for a second booking, and Marco Benassi reduced the arrears soon afterwards. But there was still time for Fiorentina to have Nikola Milenkovic dismissed before Mirallas, on loan from Everton, dragged them level.
Wilder still were the scenes at the Stadio Olimpico. Lazio have spent the past week in a training retreat, working to find a cure for a bad recent case of 'pareggite' (draw-itis). They thought they had caught the break they needed when referee Davide Massa pointed to the spot following a VAR review of a free-kick that struck Joachim Andersen's elbow in injury time.
Ciro Immobile buried his penalty, but Lazio's celebrations were short-lived, Riccardo Saponara equalising in the 99th minute with a volleyed chip over Thomas Strakosha. Sampdoria were yet another team playing a man short by this stage, too, after Bartosz Bereszynski received his marching orders late in the second half.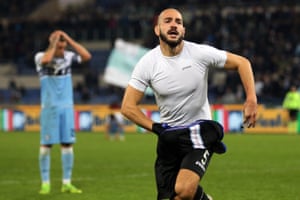 Truth be told, this was a weekend of high drama but only modest consequence for most of Serie A. Six out of 10 games finished in draws, leaving scope for only a couple of teams – Atalanta and Empoli – to actually move up in the standings. The most significant result only reaffirmed the status quo: Juventus beating Inter 1-0 on Friday night to extend their advantage to 14 points over the third-placed Nerazzurri.
This was not the champions' most compelling performance. Inter might even draw some modest encouragement from having stood toe to toe with these opponents: creating a handful of chances and largely neutralising Cristiano Ronaldo.
If Roberto Gagliardini's shot had crept inside the right-hand upright, instead of rebounding back off the post, after he ran on to a lay-off from Mauro Icardi just after the half-hour mark, then perhaps the whole match might have played out differently. Not that Luciano Spalletti was inclined to hide behind such a notion. "We played good football," he reflected wistfully. "But we never manage to maintain our level through a whole match."
The most convincing win of the weekend belonged to Napoli, who geared up for their Champions League Group C decider away to Liverpool by matching the Reds' four-goal margin of victory on Saturday. Frosinone are no Bournemouth, sitting 19th in the Serie A table before kick-off, but there was still plenty here to encourage Carlo Ancelotti's side.
Most obvious were the 90 minutes played by Faouzi Ghoulam. The Algerian was on his way to establishing himself as one of the best left-backs in circulation before rupturing a cruciate ligament during a Champions League defeat to Manchester City last November. His path to recovery has been complicated by further misfortunes: most notably a fractured kneecap at the start of this year.
This was his first competitive appearance in 13 months, yet Ghoulam was instantly transformative. He set up both of Arkadiusz Milik's second-half goals: the first with a corner that swung in to the perfect spot for the striker to nod home at the near post. This was Napoli's 31st goal of the Serie A season, but remarkably the first header: a statistic that highlights what a difference such high-quality deliveries can make.
More surprising were Ghoulam's fitness levels, flying up and down the left flank for the full 90 minutes. The expectation is that he will not start against Liverpool, though after such an eye-catching performance it certainly seems plausible that he could yet feature off the bench. In either case, his appearance here at the very least allowed Ancelotti to rest Mário Rui.
The manager has tended to pick a less mobile, more defensively resilient XI in Europe this season, with Nikola Maksimovic notionally the right-back but often sliding when Napoli lose possession as the back four becomes a back five. Rui is a far less talented alternative to Ghoulam on the left but also a less adventurous one.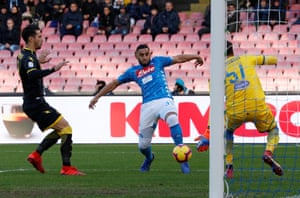 A cautious team selection is not the same thing as a cautious attitude. Napoli have scored in every Champions League game since their frustrating stalemate away to Red Star at the start of the group stage. If the Partenopei can find the net even once at Anfield, and assuming Paris Saint-Germain beat the Serbian side, then a one-goal defeat would suffice to go through.
They will take encouragement from the form of Milik, who has scored four times in his last four games for club and country. He averages one strike for every 104 minutes played in Serie A – the best ratio of any player in the division: ahead of Krzysztof Piątek and Cristiano Ronaldo.
Ancelotti stated at full-time that Napoli would go to Anfield with the intention to dictate the tempo and play their own game, not to park the bus. Such remarks are consistent with the message he has preached throughout this Champions League run: that his team is talented enough to at least have a go in every competition, that they should approach every game with the belief they can play on equal terms.
So far, they have lived up to that mantra. Napoli travel to Anfield as the first-placed team in Group C. Results across Serie A this weekend will have offered them a timely reminder, however, not to presume that anything is decided until the end.
Topics Serie A Sportblog European club football Napoli features Share on Facebook Share on Twitter Share via Email Share on LinkedIn Share on Pinterest Share on Google+ Share on WhatsApp Share on Messenger Reuse this content

Ads Links by Easy Branches