"There's nothing to say," lamented Francesco Totti. And then he said it anyway. "We're all here asking ourselves how the guys in the VAR booth didn't see [a foul on Nicolò Zaniolo inside the penalty area]. It's an embarrassment. What are they doing?"
The incident occurred shortly after the half-hour mark in Roma's game at home to Inter. Receiving a pass with his back to goal on the edge of the box, Zaniolo turned and weaved past Danilo D'Ambrosio. The defender stuck out a foot and brought him down.
Gianluca Rocchi, the referee, was only a few yards away, but signalled a free-kick for Inter – reacting to a subsequent foul. As Roma protested, he appeared to gesture indicating that he was receiving communication via his earpiece from the VAR booth. He then reaffirmed his initial decision.
Why was there no on-field review? Without further explanation from Rocchi or Michael Fabbri, the VAR official, we can only speculate. That and criticise. Roma's owner, James Pallotta, was not present but got in touch with reporters by phone at half-time. "What have the referees got against us this year?" he asked. "This first half was a disgrace."
The non-decision had become a pivotal moment. The score was 0-0 when Zaniolo went down, but barely a minute later Inter had the lead. D'Ambrosio provided the cross from which Keita Baldé volleyed home.
From an entertainment standpoint, the game only got better. Cengiz Ünder equalised with a stunning goal at the start of the second half: a piledriver from 25 yards that had hit the back of the net before Samir Handanovic could react. Such strikes have become the 21-year-old's trademark, the Roma manager Eusebio Di Francesco comparing him to Vincenzo Montella earlier this year for their shared ability to "line up a shot while still hiding it".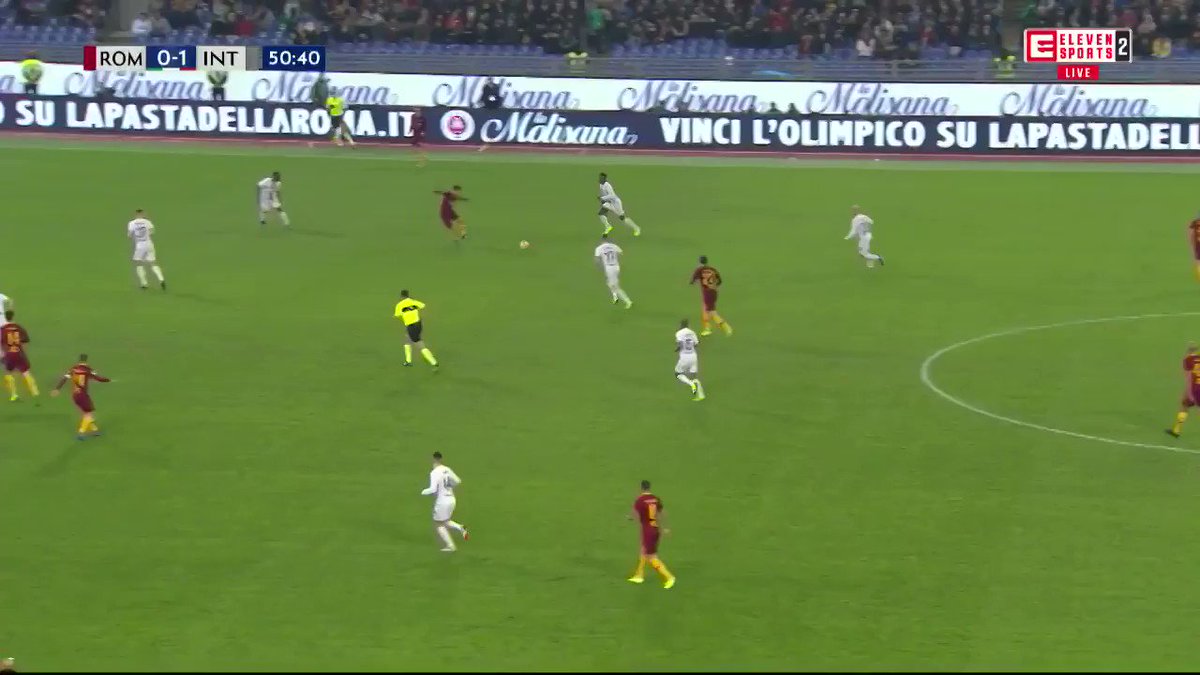 Inter got back in front in the 66th minute, Mauro Icardi heading home from a corner. Roma drew level again with an Aleksandar Kolarov penalty. This time VAR had done its job, Rocchi awarding the spot-kick after being advised to take a second look at a corner from which Marcelo Brozovic handled.
One correct decision does not cancel out a wrong one. The game might have played out differently if Roma had scored first. Their frustration was only amplified by the memory of a similar incident in their 3-1 defeat at home to Inter last August, when Milan Skriniar's foul on Diego Perotti inside the box went unpunished.
Inconsistent application of the technology remains the greatest source of frustration. Lately it appears Serie A officials are only confident to look over potential instances of handball. Milan's winner against Parma on Sunday came from another penalty awarded after an on-field review, though the decision here looked far less clearcut.
To an extent, this is inevitable. VAR is never going to eliminate human error, and Roma were still better off for it on Sunday – even if not to the degree they should have been. The technology was not to blame for defenders' failure to pick up the runs of Keita or Icardi on Inter's two goals.
The draw did not suit either team. Gazzetta dello Sport's Luigi Garlando summed it up when he wrote "VAR loses, and nobody wins". The Nerazzurri slipped a further two points behind Juventus and might lose ground on second-placed Napoli, who play away to Atalanta on Monday night. Roma finished the weekend in seventh.
And yet there were some reasons for both teams to feel encouraged. Roma entered this game in the midst of an injury crisis, with Edin Dzeko, Stephan El Shaarawy, Daniele De Rossi and Lorenzo Pellegrini all missing. Fans jeered the team during the midweek defeat to Real Madrid and Di Francesco's job was said to be at risk.
Against that backdrop, they produced a compelling performance. Patrik Schick, yet to justify last summer's €40m price tag, once again failed to score but did at least offer a compelling presence at the top of Roma's 4-2-3-1. His dribble and backheel assist for Alessandro Florenzi might have gone down as one of the goals of the season, if the latter player had not placed his shot against the post.
And then there is Zaniolo, 19 years old and acquired from Inter this summer as part of the deal that sent Radja Nainggolan in the opposite direction. While the Belgian sat this game out with the latest in a string of niggling injuries, the Italian sparkled in the No 10 role for Roma. Zaniolo had caught the eye against Madrid, too, teeing up Ünder for a point-blank finish that his teammate put over the bar.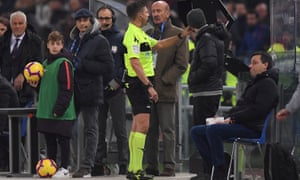 Roma cannot get by on moral victories alone. They are through to the last-16 of the Champions League but in Serie A they have won one of their last six games. Their 20 points are barely half of Juventus's total, and 12 fewer than they had at the corresponding point last season.

Inter, too, are lagging behind the pace they set during an electric start to last season. This was the first time that they had failed to win at the Stadio Olimpico since Luciano Spalletti took over as manager, prevailing on all three previous visits to his old stomping ground (two of those against Lazio).

Still, a draw away to a direct rival is nothing to be sniffed at, when you are already nine points ahead. Icardi's consistent success leaving his mark on the biggest games remains a boon to Inter, and Baldé now has three goals in his last two league games.

For Spalletti, this was an occasion to be dragged back into old arguments. He spent his post-match interviews disputing the contents of Totti's recent autobiography, in which the former captain claimed to have been marginalised and disrespected by the now Inter manager. But Spalletti did also find the time to praise Rocchi, who sent him from the dugout as a punishment for excessive protests late on. "It was right to chuck me out," he said. "Rocchi had a good game."

His old friends in Rome disagree.

Talking points

• Fans of Juventus and Sampdoria produced banners of support for Gianluca Vialli after he revealed he has cancer. Both clubs cruised to three-goal wins. It was surprising to see Juventus make quite such light work of Fiorentina, but the Blucerchiati had taken only two points in five games prior to their 4-1 rout of Bologna.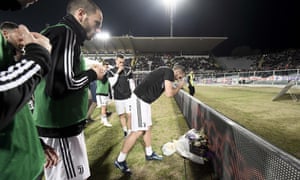 • Before kickoff in Florence, Giorgio Chiellini led a group of Juventus players to leave flowers under the Curva Fiesole, honouring the memory of Davide Astori. Regrettably, Saturday's game was also preceded by the discovery of a new piece of graffiti outside Fiorentina's Stadio Artemio Franchi, celebrating the deaths of 39 Juventus supporters in the Heysel disaster and taking aim at the deceased former Juventus captain Gaetano Scirea.
• Chievo took three points from their first 12 games of the season – sufficient only to get them back to zero after a points deduction for false accounting. In two matches under Mimmo Di Carlo, they have drawn with Napoli and Lazio.
Topics Serie A Sportblog Roma Internazionale Video assistant referees (VARs) European club football features Share on Facebook Share on Twitter Share via Email Share on LinkedIn Share on Pinterest Share on Google+ Share on WhatsApp Share on Messenger Reuse this content

Ads Links by Easy Branches