Old habits die hard for Silvio Berlusconi. It is more than a year since he sold Milan, and barely a month since he completed a takeover of Monza in Serie C, but still he presumes to address his former club's manager with tactical advice. "I don't like [Gennaro] Gattuso's team, because they only play with one centre-forward," lamented Berlusconi recently. "Milan should always have two."
It seems unlikely these words swung Gattuso's thinking. This can hardly have been the first time he heard such a suggestion from a man with whom he remains in occasional contact. Berlusconi's preference for two up top has been reiterated countless times down the years, though his knowledge of Milan's playing staff appears to be similarly unchanging. In another interview on the same theme, he also proposed starting Kaká behind the attack.
Gattuso did not seek to lure the Brazilian back out of retirement for Milan's game against Sampdoria on Sunday, but he did opt for a 4-4-2 for the first time this season. Suso was pushed back and Diego Laxalt brought forward to operate as wingers. Patrick Cutrone joined Gonzalo Higuaín in attack.
Supporters had been crying out for this combination. With a goal against Real Betis on Thursday, Cutrone raised his strike rate to four goals in eight appearances – all of them off the bench. Why not give this homegrown talent a chance to play from the beginning?
The obvious answer was that he and Higuaín were too similar, each doing their best work in and around the penalty box. In this era of false nines, could a team really get away with fielding two authentic ones?
Apparently, they could. Both got their names on the scoresheet in a back-and-forth game at the San Siro, Cutrone opening the scoring and Higuaín netting the equaliser after Sampdoria had responded with goals from Riccardo Saponara and Fabio Quagliarella. Milan went on to win 3-2, Suso scoring the winner.
Monday's Gazzetta dello Sport tallied up the total time Cutrone and Higuaín had spent on the pitch together this season, finding a combined strike-rate better than one goal every 40 minutes. "Projecting that through an entire game, that means starting 2-0 up," announced the optimistic analysis.
Putting aside any trivial quibbles about sample size, we can at least observe that this partnership has shown promise. Far from treading on each other's toes, Cutrone and Higuaín seem to have quite a natural rapport, seeking one another out in possession. The latter's goal was set up by a sharp one-two between them.
Cutrone was only returning a favour. Higuaín had provided the assist on his winner against Roma back in August, dissecting the Giallorossi's defence with a well-timed through-ball. It is tempting to wonder whether their shared experience as No9s might help each recognise the spaces the other would want to attack, and where they would want the ball played.
Whether or not Milan are better for playing in the 4-4-2 that accommodates them is another question entirely. Sampdoria dominated possession and their manager, Marco Giampaolo, argued that the game had been won only by acts of individual brilliance. Suso's winner was a trademark solo effort, struck across goal from 20 yards.
Gattuso countered that his team had created more opportunities, conceding from two shots on goal. He was similarly resistant, however, to any attempt to colour this victory as a result of the formation change.
Most encouraging to him might have been the attitude of Cutrone and Higuaín, two players with a shared aggression and physicality in their way of interpreting the position. He had called on his team to play like "angry dogs", demanding a reaction after limp performances against Inter and Betis. Defeats to those teams had fuelled speculation that he could be fired. Both Leonardo and Paolo Maldini had dropped by Milanello on Friday for conversations with the manager and his team.
Publicly, the leadership has been consistent in its support for Gattuso. But Maldini also reaffirmed that the club's ambition is to finish in the top four. Champions League football is a necessary first step back towards financial stability for a club that posted a €126m loss on last season's accounts.
Initially banned from European competition this year for failing to comply with Financial Fair Play requirements, the Rossoneri were reinstated following an appeal to the Court of Arbitration for Sport. The latter ruling rested in part on the club's recent repossession by Elliott Management, but further sanctions can be expected if they fail to improve the balance sheet.
This particular set of circumstances does also complicate the outlook with regards to Gattuso. On the one hand, the club will need to remove him if they believe he cannot obtain a Champions League berth. On the other, replacing him with a high-profile name would be an expensive undertaking.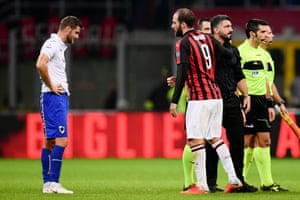 The best scenario for Milan, then, would be for the incumbent to succeed. Gattuso is well-liked by his players, Higuaín praising his man-management in a recent interview with Gazzetta and likening him to Maurizio Sarri for his capacity to motivate. Alessio Romagnoli insisted he and his team-mates were "ready to die" for their boss.

Milan are not as far off the pace as you might imagine from the tone of some of the recent media coverage in Italy. A win in their postponed game against Genoa this Wednesday would give them 18 points from 10 games, and put them very much in touch with the top four.

What ought to concern Milan more than the standings is an atrocious defensive record, with 13 goals conceded already in the league. They have not kept a clean sheet in 15 Serie A matches dating back to last season, their longest such run since 1946.

Experimenting with a two-man attack does not need to compromise the defence. Just ask Carlo Ancelotti, whose Napoli side have been far tighter at the back since switching from a 4-3-3 to a 4-4-2. It might serve Milan's interests to give Higuaín and Cutrone more games together. That alone, though, will not be a quick fix.

Talking points

• The one and only real talking point this Monday: how on earth did Sassuolo fail to score from here?

• "I'm not a wizard," insisted Ancelotti after Napoli's draw with Roma, and this was a game to remind us that even the best managers cannot stick the ball in the net. The Partenopei comfortably outplayed Roma yet needed a 90th-minute equaliser from Dries Mertens.
• The gap to first is back to six points, because Juventus beat Empoli 2-1 the day before. The Bianconeri were a goal down at the break and playing some way below their best but Cristiano Ronaldo once again made the difference, converting a penalty first before smashing home the winner from 20 yards.
• A first win of the season for Frosinone, and what a way to get it: thrashing Spal 3-0. It leaves Chievo as the only winless side, the former Italy manager Giampiero Ventura suffering a second consecutive defeat since taking charge.
Topics Serie A Sportblog Milan European club football features Share on Facebook Share on Twitter Share via Email Share on LinkedIn Share on Pinterest Share on Google+ Share on WhatsApp Share on Messenger Reuse this content