Andy Carroll and Peter Crouch make their presence felt as West Ham deny Stoke a much-needed win
Winning this game would have been a miracle for Stoke City, but not winning it, and in this fashion, was a disaster. This was a dismal match which both teams deserved to lose but somehow neither of them did. Although both of them - blunt in attack, slow in midfield, clumsy in defence - ran it close at the end.
At least West Ham United already have just enough points on the board. They can accept this draw but for Stoke it will be much harder to take. Because after offering nothing all night, Paul Lambert's team took an implausible late lead through Peter Crouch, scrambling the ball in from close range. That would have been their first win since 20 January, three points of incalculable value with just four games left after this one.
But then in the last minute another substitute, Andy Carroll, popped up and volleyed in. Stoke were left with one bitter point, leaving them still five adrift and with hard games to play.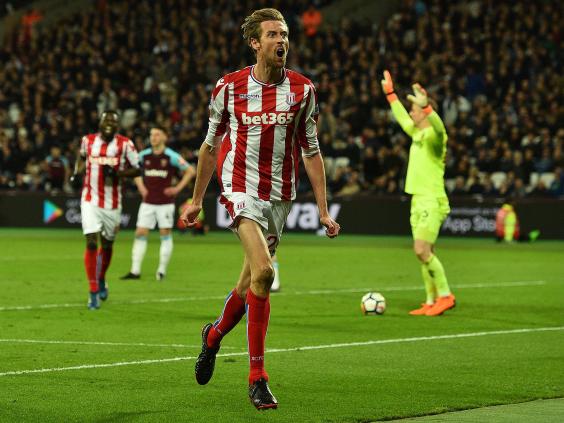 Stoke were sickened, but it was difficult to feel sorry for them. Because what was so surprising, given the stakes, was how little urgency they began the game with. We are far enough into spring that this game began in sunlight and yet Stoke played here as if they had the whole season still ahead of them. No tempo on the ball, no urgency without it and the bizarre sight of goal-kicks and set-plays being slowed down and waited on. Time-wasting is an unusual way to save yourself from relegation.
The only player in the first hour with any interest in making a difference was Marco Arnautovic, who Stoke sold to West Ham last year. He has a big job in this West Ham team: not just the lonely target man but the only player with any real creativity or flair either. He has carried West Ham at times recently, not least with his double against Southampton last month, and this was no different. None of his team-mates gave him much support.
All the moments of any interest at all in the first half – and there were not many – were down to Arnautovic alone. He forced a near-post save from Jack Butland. He nearly got in behind Kurt Zouma. He played a sharp one-two with Joao Mario. He shot straight at Butland from a Pablo Zabaleta cross. But that was pretty much that, and if you were here for excitement, quality, or even for the drama of a relegation six-pointer, it felt as if you had come to the wrong place.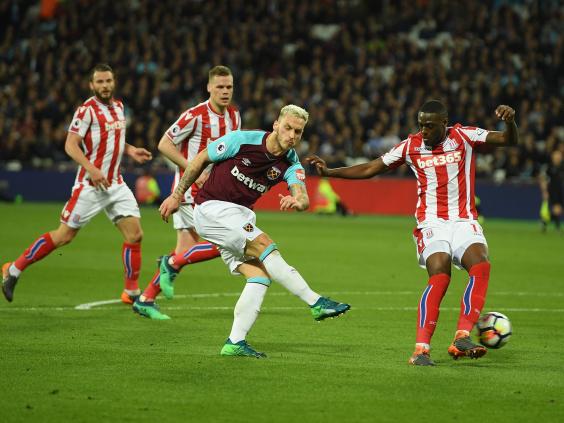 At least in the second half West Ham were getting very slightly closer, even though they never had anything to show for it. Twice they had goals disallowed: first Arnautovic offside heading in Aaron Cresswell's cross. Then Arnautovic offside and un-sighting Butland from saving Edimilson Fernandes' low shot. But West Ham failed to seize the initiative against a team so obviously easy to beat. And on another day they would have painfully paid for it.
Because with 12 minutes left, Stoke snatched a lead that came from nowhere. Xherdan Shaqiri, anonymous all night, squeezed off a left-footed shot from 20 yards. The ball whistled through bodies, confused Joe Hart and he spilled it straight out. There was Peter Crouch, on as a sub, to stick out a leg and knock the ball in. It was less than Stoke deserved, having created nothing all game, but at least when an opportunity showed up they took it.
The problem was that, looking so giddy at the prospect of a win, they could not stop the same thing from happening back to them. West Ham threw on their own towering striker, Andy Carroll, not seen in these parts for more than three months. And if Crouch can steal an unexpected goal then so can he: Cresswell crossed from deep and Carroll held off two defenders to clip in a finish from the edge of the box. Suddenly the stadium was alive and West Ham even had a winner disallowed for handball. Victory for either of these teams would have been excessive but only one of them can be happy with the point.
Follow the Independent Sport on Instagram here, for all of the best images, videos and stories from around the sporting world.
Follow Us