PSG can beat Real Madrid without Neymar – by playing as a team
"Neymar? He's a top player. I hope it's nothing big. I'd prefer to see the best players on the pitch, even if it's against us." With the Brazilian forward likely unavailable to face Marseille for Paris Saint-Germain in the Coupe de France on Wednesday, Rudi García could afford to be magnanimous on this occasion, even if another loss in that competition looks likely to follow his team's 3-0 defeat at the Parc des Princes on Sunday.
Even before Neymar's exit late in the match Paris Saint-Germain had not been at their best. That said, in a game that was marked from the outset by a robust physicality (and 11 bookings), the leaders turned in a determined performance, offering a renewed focus with nary a hint of the side that had conceded a raft of chances to Strasbourg a week ago. Perhaps more important than that solidity, though, was a newfound embrace of team play, something this side has lacked too often in the current campaign and something that will be all the more necessary in next week's return leg against Real Madrid.
Neymar and Kylian Mbappé can win a match on their own, to the point that developing a particular tactical approach or offering any sort of discipline can fall by the wayside. Worryingly, this attitude had seemingly spread beyond the club's two record purchases, as many in the team frequently took it upon themselves to play as they saw fit, with Dani Alves and Layvin Kurzawa among the chief culprits. However, the loss to Real Madrid a fortnight ago and even the 5-2 win over Strasbourg served as forceful reminders that relying solely on individual quality will not be a recipe for success at the level desired by the club's hierarchy.
Against Marseille, though, there was a unity and aggression to match the visitors' own, and the result, rather than being a mere matter of chances being taken, was deserved and showed any number of players rising to the occasion. Perhaps, surprisingly, foremost among these was Kurzawa, whose season-long duel for the role of starting left-back with Yuri Berchiche seemed to have reached a nadir for the former Monaco man when he was dropped for the visit to Madrid. Here, he sparkled, not only for his attacking prowess but for his defensive drive, totally shackling Florian Thauvin and offering a firm rejoinder to those who would have Berchiche back in the team come next Tuesday.
Thiago Silva was similarly imperious, the captain marshalling the back-line superbly. Mbappé was more inventive than usual, seeking to be a creator rather than just a predator. Lassana Diarra was also assured in midfield, even against the powerful duo of Luiz Gustavo and André-Frank Zambo Anguissa. Giovani Lo Celso, in for the injured Marco Verratti, was the only player who did not impress for the hosts but, after his calamitous showing in Madrid, he is unlikely to feature in any event.
A consummate performance against one of the best sides in France should have Unai Emery quite pleased this week, but he still needs a plan if Neymar's ankle injury is serious enough to keep him out. Despite his cautious optimism after the match, the manager must have a plan in place to turn around a 3-1 deficit. Paris Saint-Germain have turned in impressive performances against the odds before, including a 2-2 draw at Stamford Bridge at this stage despite playing with only 10 men for most of the match, but this represents a different sort of challenge given the club's investment last summer.
Emery is unlikely to deviate from 4-3-3, meaning he has three realistic options to replace the Brazilian, one of whom, the out-of-favour Julian Draxler, should probably be dismissed immediately. That leaves Ángel Di María and Javier Pastore, a pair of players who have often been on the periphery this season, despite their talent and experience. Di María may seem the natural choice, given his flurry of goals at the beginning of the calendar year, but he isn't a naturally left-sided player. Picking Di María may mean swapping Mbappé to the opposite flank.
Might Pastore prove a better option? His time at Paris Saint-Germain has been beset by injury but he has consistently impressed when called upon. Furthermore, he offers much more defensive solidity than his countryman, having been hugely impressive in that draw against Chelsea, despite playing a much deeper midfield role. He also has a more versatile range of passing and can take up a variety of positions to support the attack, influencing a match without needing to take on opponents as Di María can sometimes be wont to do.
Emery still has plenty of time to make this decision and will likely use the next two matches (including Saturday's trip to Troyes) to put the pieces together. Whatever decision he takes, though, their performance against Marseille will undoubtedly serve as a tonic to the club's spirits. Neymar or not, this team proved itself capable of playing with determination and focus, and on that evidence, a once-faint hope of recovering that deficit in Europe now seems tantalisingly within reach.
Ligue 1 talking points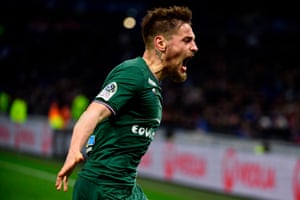 • While Le Classique drew the majority of the attention on Sunday, the encounter earlier between Rhône-Alpes rivals Lyon and St Étienne, France's premier local derby, carried arguably more needle and passion. St Étienne's 5-0 defeat by Lyon in November was one of the worst nights in the club's 99-year history and left the 10-time Ligue 1 winners in turmoil. However, the wizened Jean-Louis Gasset has since managed to inject the team with some confidence and this return fixture offered a chance at redemption. Mariano Diaz's graceful chest, turn and half volley gave Lyon a 1-0 lead but an increasingly confident St Étienne began to impose themselves as the second half wore on and Mathieu Debuchy's equaliser, his second goal in four games since his return to Ligue 1 from Arsenal, was heartily deserved as injury time approached. The pile-on of jubilant St Étienne players that followed underlined how crucial a goal it was for this historic club's self-esteem.
• Astonishment at Nantes' challenge for European places before Christmas has unfortunately been matched by surprise at their continued grip on a Europa League spot since the winter break. Although Claudio Ranieri's influence on the club this season cannot be understated, their form following the New Year has taken a dramatic downturn with just one league win in seven. Saturday's visit of a floundering Amiens represented a chance to steady themselves. However, Gael Kakuta's superb curling effort, Prince Gouano's stoic defensive display and a 1-0 Amiens' win meant Nantes were finally edged out of a guaranteed European place by Montpellier. With the chance to coach Italy a possibility this summer and his side already stuttering, Ranieri's reign at Nantes may have already peaked.
Ligue 1 table
Follow Us