PSG will not win the Champions League until they learn to defend
"We started by producing the match that we needed to," said a frustrated Adrien Rabiot after Paris Saint-Germain's 3-1 defeat to Real Madrid at the Bernabéu. "We always say the same things, we always do the same things but in the end we are always beaten in the same way." Paris Saint-Germain weren't beaten by Strasbourg on Saturday, but the nature of the two goals they conceded shows they keep refusing to learn from their mistakes.
On Wednesday Marcelo's late goal at the Bernabéu gave Madrid a crucial two-goal lead in the Champions League tie and on Saturday an almost identical defensive lapse from Paris Saint-Germain allowed Jean-Eudes Aholou to give Strasbourg a surprise early lead at the Parc de Princes. Rabiot himself failed to track the late run of Marcelo in Madrid but this time it was the turn of Lassana Diarra, who gave Ahoulou enough space to strike home.
These mistakes are nothing new – they have become endemic. Strasbourg won the last meeting between these sides thanks to Nuno da Costa being allowed a free header; Paris Saint-Germain fell to a 3-1 defeat against Bayern Munich after a clumsy clearance from Marquinhos let Robert Lewandowski opening the scoring; and a succession of errors led to their collapse at the Nou Camp last season.
As is nearly always the case in Ligue 1, Paris Saint-Germain paid little mind to Ahoulou's opening goal and were 3-1 up 15 minutes later. They ran out 5-2 winners, their obscene firepower hauling them out of trouble with ease. The lack of competition they face outside of the top four in Ligue 1 may have left them lacking the rigour required to remain watertight at the highest level, but this is also a longstanding issue.
Unai Emery has not been able to cut out these mistakes. In fact, he continues to make errors of his own. Dropping Thiago Silva for the first leg in Madrid was in principle the correct decision as Marquinhos and especially Presnel Kimpembe have proved their worth – not least in the 4-0 first-leg win over Barcelona last season – while Silva's lack of leadership in the second leg was nothing new. But informing the respected club captain that he would be omitted just hours before the game not only unsettled the side but also gave them no time to adapt tactically.
Dropping the Brazilian after the defeat to Barcelona or at the end of last season would have made more sense but the arrivals of his international team-mates, Neymar and Dani Alves, made that a harder fight for the manager. In the end, Emery's last-minute decisions and weak handling of an ego-heavy squad have cost Paris Saint-Germain, just as Laurent Blanc's bizarre switch to a barely used 3-5-2 before their dire defeat to Manchester City in the Champions League quarter-finals in 2016 only hurt his team. Emery's reign has also become defined by indecision, much as Blanc's was. Silva was back in the side as captain against Strasbourg, even though Marquinhos and Kimpembe were hardly disastrous enough in Madrid for the pairing to be abandoned.
Emery's insistence on picking Giovani Lo Celso against Real Madrid proved to be his biggest mistake. Lo Celso is clearly talented and has looked promising in a more defensive role recently but he is an attacking midfielder and had looked unassured when asked to play further back away at Lyon – the most comparable encounter he had faced before going to Madrid. Emery's naivety was matched by Lo Celso's as he clumsily challenged Toni Kroos to concede a penalty in Madrid.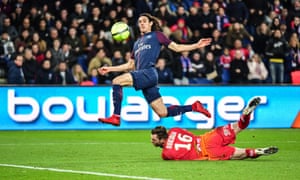 Player power has been a big issue at the club since Blanc struggled to handle a dressing room dominated by Zlatan Ibrahimovic. Javier Pastore and Edinson Cavani returning late from the winter break, Silva commenting on the subject in public, and Neymar being absent after his birthday party are all recent examples of this unprofessionalism. Individualism sets the tone: not one pass was completed at the Bernabéu between Neymar and Cavani or between Mbappé and Cavani.
Paris Saint-Germain sparkled against Strasbourg at times, but in truth Cavani's pair of delightful finishes only masked another wayward defensive display. Silva was sucked out position for Strasbourg's second goal and a third was incorrectly ruled out for offside – mistakes that will be costly in the Champions League. Emery and those above him should have taken heed of Rabiot when he said: "It's great to put eight goals past Dijon, but it is in these matches that you have stand up and be counted." They will only do so when they finally admit to and address some of their perpetual problems.
Ligue 1 talking points
• Another week, another Robert Beric goal for Saint-Étienne. The Slovenian had been sent out on loan in the summer by Óscar Garcia, who though an archetypal targetman did not suit his plan of playing more aesthetically pleasing football, but since his January return, he has scored four goals, including three in the league. By acting as a focal point in attack, he allows the team's more creative players the sort of time and space on the ball they have been largely lacking this season. With 13 points from the seven league matches in which he has appeared, Saint-Étienne aren't going to push for Europe as a result of his arrival, but he, more than some of his more notable teammates (Yann M'Vila, Paul-Georges Ntep) has made the difference as the club have climbed out of the relegation fray.
• Lyon will have been disappointed by dropping two points in Lille, drawing 2-2 with the hosts, but more than a poor showing by the visitors, Christophe Galtier's motivational tactics made the difference. Trailing 2-0 and having been forced to substitute off one of their better attackers in Anwar El Ghazi, things looked grim indeed, but for the second week running, Les Dogues found it within themselves to take a point off a top five opponent. Relegation remains a concern, but on the strength of another comeback, this side should have the belief required to stay up.
• Marseille were hardly inspiring in their 1-0 win over Bordeaux 1-0 on Sunday but the result was what was required after Monaco had picked up three points on Friday. Florian Thauvin was again the hero for Marseille, scoring the only goal of the game in the first half, and equaling his career best for a season in the process. The club will attract naysayers for being so reliant on chance and one individual, but they are six points in front of Lyon so it is hard to argue with the results.
Ligue 1 table
Follow Us