It has taken a few days to process Hoffenheim's debut Champions League campaign but Tuesday's last-gasp defeat to Shakhtar Donetsk means Die Kraichgauer have scored 10 goals in their matches with the Ukrainian champions, Manchester City and Lyon, but have still not managed to win once and their campaign will not now continue after Christmas.
"I don't believe it's possible to play better than we did with 10 men," Julian Nagelsmann said, having chased and dominated the game with belief and no little poise despite playing the last half-hour a man down after Adam Szalai's red card. The coach had extrapolated his view of a drawn match – "pointless" – beyond this particular scenario and into his general philosophy.
Four days later, back in Sinsheim, Nagelsmann softened his stance after Saturday afternoon's stalemate with Schalke. "I can live with the point," he said, despite believing his team should have had more. His opposite number Domenico Tedesco, who talked of "two points dropped", felt the same.
This was a 1-1 draw in which the scoreline did absolutely no justice to the match itself. This was the Bundesliga at its finest; loopy, unpredictable, chaotic, irrational. Hoffenheim once again showed the full range of their wonderful, maddening inconsistencies against a Schalke team freed from a dreadful start to the season, but now mired in mid-table ennui.
It ended, as well, with Nagelsmann and Tedesco speaking as if they had been watching two entirely different games. There would be little amiss in an innate unreasonableness on both sides; after all, this was a meeting of the two youngest coaches in the Bundesliga at 31 and 33 respectively, both with an insatiable appetite for self-improvement. That they earned their coaching badges together at Sportschule Hennef, to the east of Bonn (Tedesco was top of the class), before Tedesco took over Hoffenheim's under-19 side when Nagelsmann moved up to first-team duty, adds a perceived edge to their confrontations, though it is clear to regular observers of both that their motivations come from within rather than from any external forces.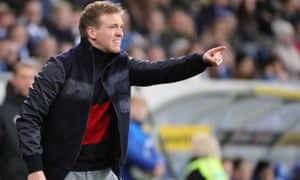 Their latest meeting was a reflection of that, and of how these feted coaching stars are developing. Nagelsmann, despite a few near misses and unlucky breaks, has coped with his first season in the Champions League pretty well. Hoffenheim have ridden out injury problems and their recent domestic form is good – they are now unbeaten in six league games. Perhaps most significantly, they have even more points than at the same stage last season, a campaign in which they managed a best-ever finish of third to secure automatic Champions League qualification.
Nagelsmann's team has really evolved, too. They have become more enterprising and aggressive, and took the game to Schalke from the beginning with Steven Zuber hitting the bar in the opening five minutes. Even though the visitors came back into the game, the home side managed 20 efforts on goal (of 35 in the match) with marginally less than half the possession. ZDF's Aktuelle Sportstudio, which rounds up the Saturday Bundesliga action at night, made a point of cutting footage of Hoffenheim penning in Schalke with their pressing with shots of Tedesco on the touchline, with a concerned face, nodding in apparent if pained approval. There is no sense of Nagelsmann standing still or marking time before his departure for Leipzig next summer.
Curiously, Tedesco's team have showed signs of developing too, which is perhaps less expected. He is a decidedly un-Schalke type of coach, with a style built on containment and counter. That he could get his players to absorb and accept this approach is testament to just how convincing he is, but when the results don't come (and Schalke lost the opening five of this season), what is there left?
Maybe Tedesco would have tweaked the approach anyway but it's hard not to conclude that he has posed himself the same question and Saturday's side, on the back of 10 goals in their last three home games but a rather sorry Champions League display on the road at Porto, was a daring one. Even shorn of attackers including Mark Uth, Breel Embolo and Steven Skrzybski, Schalke took the game to Hoffenheim and deserved their equaliser at the very least, given to them by Nabil Bentaleb's penalty – one of three penalties awarded by referee Robert Kampka, with the other two converted by Andrej Kramaric from the home team and overturned by VAR respectively, after Zuber was initially penalised for handball in the first half, much to Tedesco's annoyance.
Unlike Nagelsmann, Tedesco has made it to the last 16 of the Champions League at the first attempt, albeit slightly aided by a fairly clement draw. That limp display in northern Portugal appeared to be a knock-on from the pre-kick-off news that Lokomotiv Moscow's defeat of Galatasaray had put both Porto and Schalke through. While Hoffenheim's caprices largely stem from what is either defensive disregard or incapability (probably more of the former than the latter), Schalke are dealing with growing pains as they attempt to reconcile Tedesco's base philosophy with a gutsier approach more consistent with the club's tradition.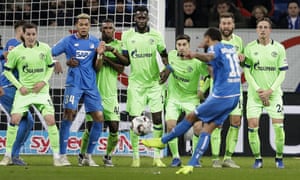 They have picked the right moment to do it. "I saw a brave team today and that's important, because that's the way we have to play against Dortmund," Tedesco said, though he refused to countenance any comparison with their rivals, who they face in the Revierderby on Saturday. For Nagelsmann, considering the opposition sometimes appears to be an afterthought.
"I always want to win," he had said after the Shakhtar loss, "and I want to win everything. I want to win against Manchester City too." That attitude is doing his club little harm and if this was anything to go by, Tedesco appears readier than ever to join his old colleague in speculating to accumulate.
Talking points
• Last Friday was Bayern Munich's AGM, an Angry General Meeting if ever there was one. President Uli Hoeness appeared taken aback to be met with such stringent criticism of his dealings with the media, for one, as well as the sponsorship deal with Qatar Airways. One attendee hung a flag emblazoned with the legend 'Not my president' in front of his seat. Saturday afternoon's win at Werder Bremen wasn't plain sailing either, though the home side's equaliser by Yuya Osako – the result of more indecision between Manuel Neuer and Jérôme Boateng – proved to be little more than collateral damage, sandwiched in between a match-winning brace by Serge Gnabry on his return to Weser.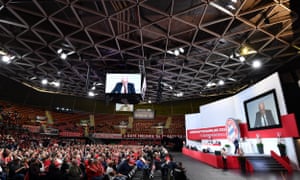 • Dortmund moved seven points clear at the top with an unspectacular 2-0 win over Freiburg, with Jadon Sancho winning the penalty for Marco Reus to score the first and heavily involved in Paco Alcácer's second. The players were chipper enough to interrupt their dressing room soundtrack of trap and hip-hop post-match to reward coach Lucien Favre with a blast of Sweet Caroline.
• They were also indebted to Timo Werner's brace for Leipzig, which beat second-placed Borussia Mönchengladbach on Sunday and widened the gap.
| Pos | Team | P | GD | Pts |
| --- | --- | --- | --- | --- |
| 1 | Borussia Dortmund | 13 | 24 | 33 |
| 2 | Borussia M'gladbach | 13 | 14 | 26 |
| 3 | RB Leipzig | 13 | 14 | 25 |
| 4 | Bayern Munich | 13 | 7 | 24 |
| 5 | Eintracht Frankfurt | 13 | 14 | 23 |
| 6 | Hoffenheim | 13 | 9 | 21 |
| 7 | Hertha Berlin | 13 | 1 | 20 |
| 8 | Wolfsburg | 13 | 0 | 18 |
| 9 | Werder Bremen | 13 | -1 | 18 |
| 10 | Mainz | 13 | -2 | 18 |
| 11 | Schalke 04 | 13 | -4 | 14 |
| 12 | Bayer Leverkusen | 12 | -6 | 14 |
| 13 | Freiburg | 13 | -6 | 14 |
| 14 | Augsburg | 13 | -2 | 13 |
| 15 | Stuttgart | 13 | -17 | 11 |
| 16 | Nurnberg | 12 | -16 | 10 |
| 17 | Hannover 96 | 13 | -13 | 9 |
| 18 | Fortuna Dusseldorf | 13 | -16 | 9 |